What's a multi fit model?
A "multi fit" model is an alternative version of your live Customer Fit model.
It is deployed alongside your live model and segments your whole contact base.
A multi fit model's segmentation can either be pushed to your integrations or be live without being pushed.

Why use a multi fit model?

Multi fit models can come in handy when you're addressing very different markets. Examples:
Use one model per region if your customer types are very different from one continent to another

Use one model per company type (enterprise vs mid-market)
They're also a great way to Evaluate your draft Customer Fit performance against your live model before replacing it for good.


How to deploy
If it's the first time you're deploying a multi fit model → simply go to the deployment tab of a draft model and hit "Deploy as Multi Fit".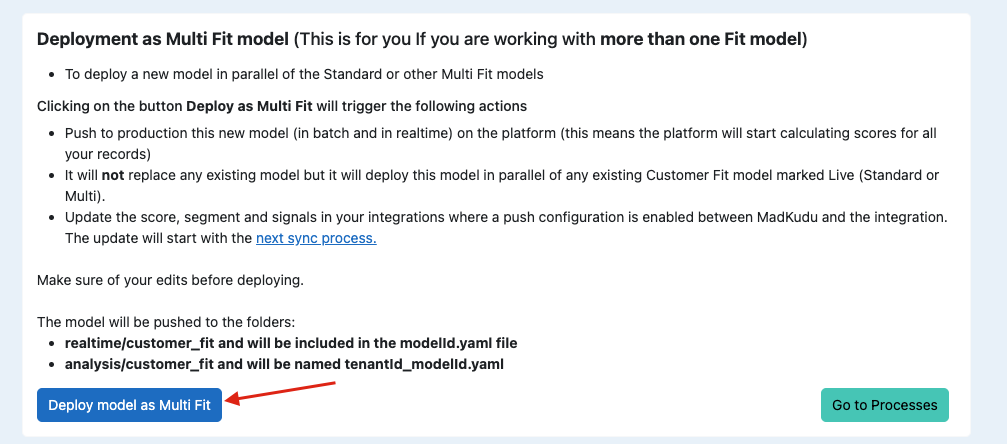 If you wish to deploy an updated version of your existing multi fit model, follow these steps:
Deploy your new model as Multi Fit and give it the exact same name as your currently live Multi Fit (be careful to not have an empty space at the end of the name).

Immediately undeploy the previous version of the model (otherwise there could be a scoring conflict between the two models). Go to the model's overview and click undeploy.
What's next?
Would you like to push your Multi Fit scoring to your integrations for the first time? Please open a ticket here explaining:
the multi fit model that you'd like to start pushing
the integration that will get the MadKudu intelligence
the name of the MadKudu fields in your integration
If the push of MadKudu Intelligence has already been set up and you've just deployed a new version of your multi fit model, you don't need to do anything!