If you're purchasing intent data from 6sense, DemandBase, ZoomInfo, Clearbit Reveal, G2, Bombora...etc, you have access to data like "someone from this domain showed interest in this solution or visited this content", but you don't have access to the email of this anonymous visitor. Since MadKudu scores accounts based on the activities of emails attached to the account (and not from anonymous people), you'll need to associate an anonymous email to this intent data for MadKudu to be able to take it into account in the scoring.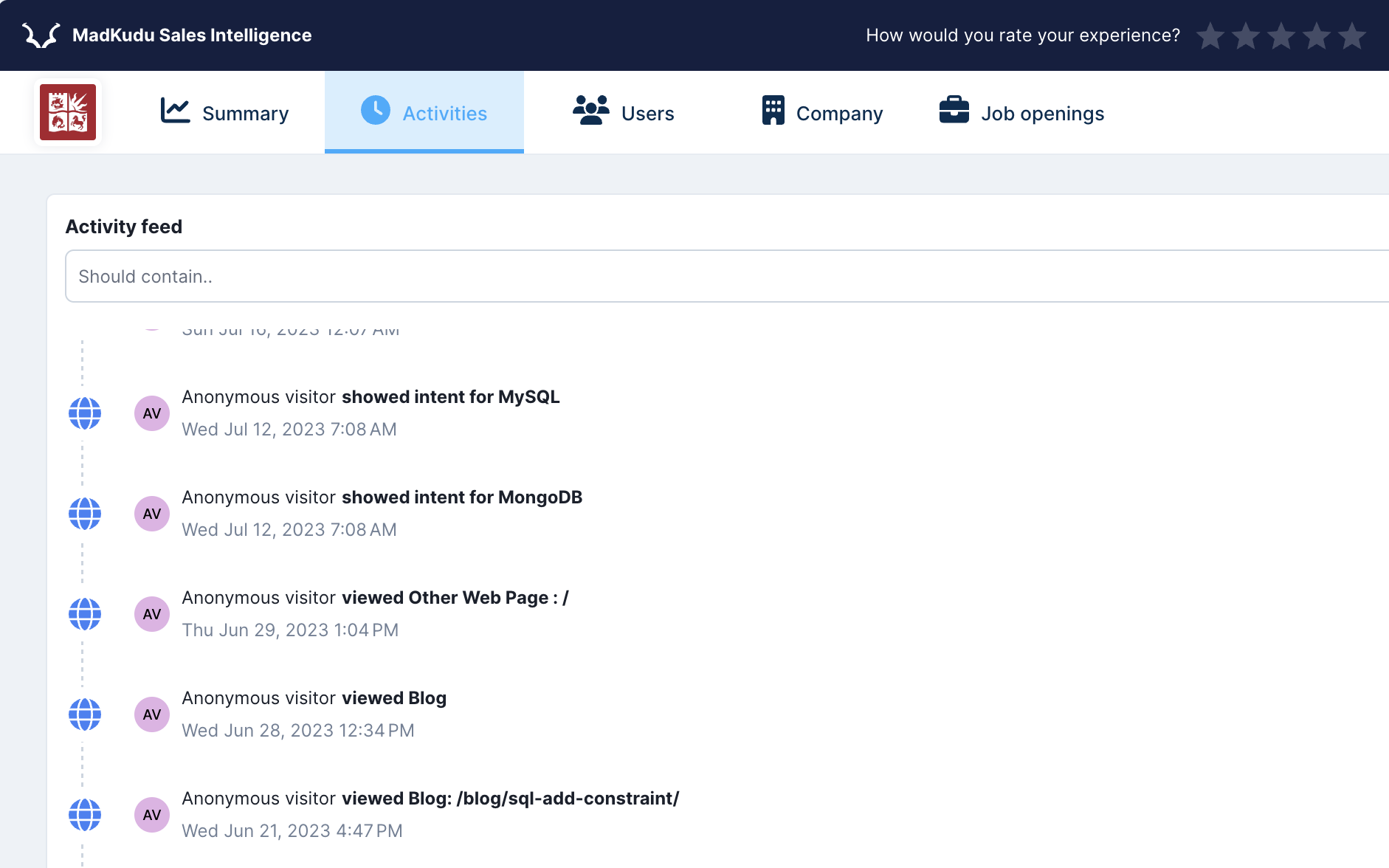 Here's how. 
Before we start...
Why use intent data?
Intent Data represents the data collected from potential buyers' digital footprint when searching the web, visiting industry websites, downloading whitepapers, etc. Over time, as this digital footprint becomes larger, it signals a likelihood that they are progressing through their buyer's journey and will likely be receptive to an approach from your marketing and sales team. 
What are the types of existing intent data?
Intent data is recorded and tracked with cookies, based on visitors' IP addresses, when they visit your website (first-party) or other websites (third-party). You may be using a tool like Clearbit Reveal to de-anonymize your anonymous web traffic or you may be purchasing 3rd party intent data directly from providers like G2Crowd who gather browsing activity on B2B reviews. Both types are relevant but provide different types of information: first-party intent data tells you who already has knowledge of your brand and what they're interested in knowing from you, while third-party intent data may tell you which other solutions they are looking at. 
When to use intent data?
If you are interested in scoring your accounts based on their activity to identify which ones are showing readiness to buy, you may be considering including intent data. However, you should consider where in the funnel and in which motions you'll want to use this segmentation: if you are trying to surface product-qualified accounts (PQA) to your Sales team for expansion, intent data would provide a much lower signal than product usage. On the other hand, if you are trying to surface accounts for your marketing team to get them to engage with your brand, then intent data may come in handy.  
How to send Intent data into MadKudu?
Few possible ways: 
via integrations you already connected to MadKudu (Salesforce, Segment) 
via an export of your intent data provider to S3 
Please reach out to your provider for more details

Coming soon: direct integration Intent providers  <> MadKudu - suggest a provider at product@madkudu.com ! 
How to leverage intent in MadKudu? 
Sales intelligence: show your reps when their target accounts are showing activity on G2 for them to get more context on their account
Account segmentation: include G2 buyer intent in

in aggregations to identify accounts showing intent in your reports
in your account scoring to boost the score of accounts showing intent