Signals are meant to provide information in your CRM to explain the score of a lead or to just surface relevant information about the prospect even if not used in the scoring.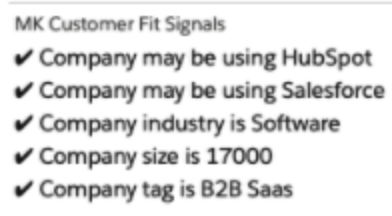 Signals are built from rules based on the analysis of the model to show which trait impact positively or negatively the score of a lead, or based on computations we think are relevant to display.
How to add a signal to surface information to your Sales team?
Step 1: Duplicate the live model
Go to the Data Science Studio (springbok.madkudu.com)
Duplicate the model marked as "live" so you don't risk editing the model currently in production
Name the duplicated model how you want
Step 2: Create Signal
In the model, navigated to Data Science Studio > Signals
Click on Add group at the bottom of the page

Give a title to the Group
Select a condition based on a Computation, condition and value
Select how the signal should be displayed

Signal direction: is it a positive or negative signal for Sales?
Priority: between 0 and 100, how should this signal be positioned compared to other signals? Note that in your CRM only 5 signals are displayed total
How the signal will look: What text should display?

If the signal should look like a predefined text WITHOUT any dynamic value, simply enter the text in the field input and select "NULL" in the last picklist
If the signal should look like a predefined text WITH a dynamic value, enter the text in the field input and select the computation in the last picklist.

Click on Save
Note that
1 Group = 1 Signal
1 Group can include several rules
A lead can only fall in 1 rule per Group -> the order of the rules in a Group is important
Step 3: Check the signal on a few leads
Go to the Spot check tab
Look into some examples of leads to make sure your signal look good and there isn't any error in the logic
Step 4: Deploy Signal
To make this signal active in your scoring and start updating the signals of your leads or account, you'll need to deploy the changes made.
Good job!
To go further ...
How to build signals based on the decision trees (for decision tree based models): if a split condition of a node in a tree creates a node with a high conversion rate, it means the condition on this trait impacts positively the score of a lead.
F.A.Q
Any question? Help us improve our documentation! Shoot us an email at product@madkudu.com