MadKudu Data Science Studio called "Springbok" is our internally built platform that allows you to easily edit your scoring configuration and much more.
This platform was originally built for our internal data scientists to build models for our customers and we are excited to now open this "black box" to external users.
The platform allows you to
understand who is your Ideal Customer Profile (ICP)
edit models MadKudu created for you during your onboarding: adding rules based on your Sales team feedback, surfacing more information in your CRM, adjusting the volume of MQLs ...
create computations and aggregations to export directly to your CRM
analyze the DNA of a list of leads
create predictive models or simple rule-based segmentations based on firmographic, demographic and technographic data
preview samples of scored leads before updating your model in production
... and much more!
Where do I see my model(s)?
Go to springbok.madkudu.com and authenticate.
You will arrive on the home page where you can
View the list of live models ("labelled "LIVE")
Open a model to look into it
Edit the model name
Duplicate the model to start from a copy instead of modifying the model live in your system
Create a new model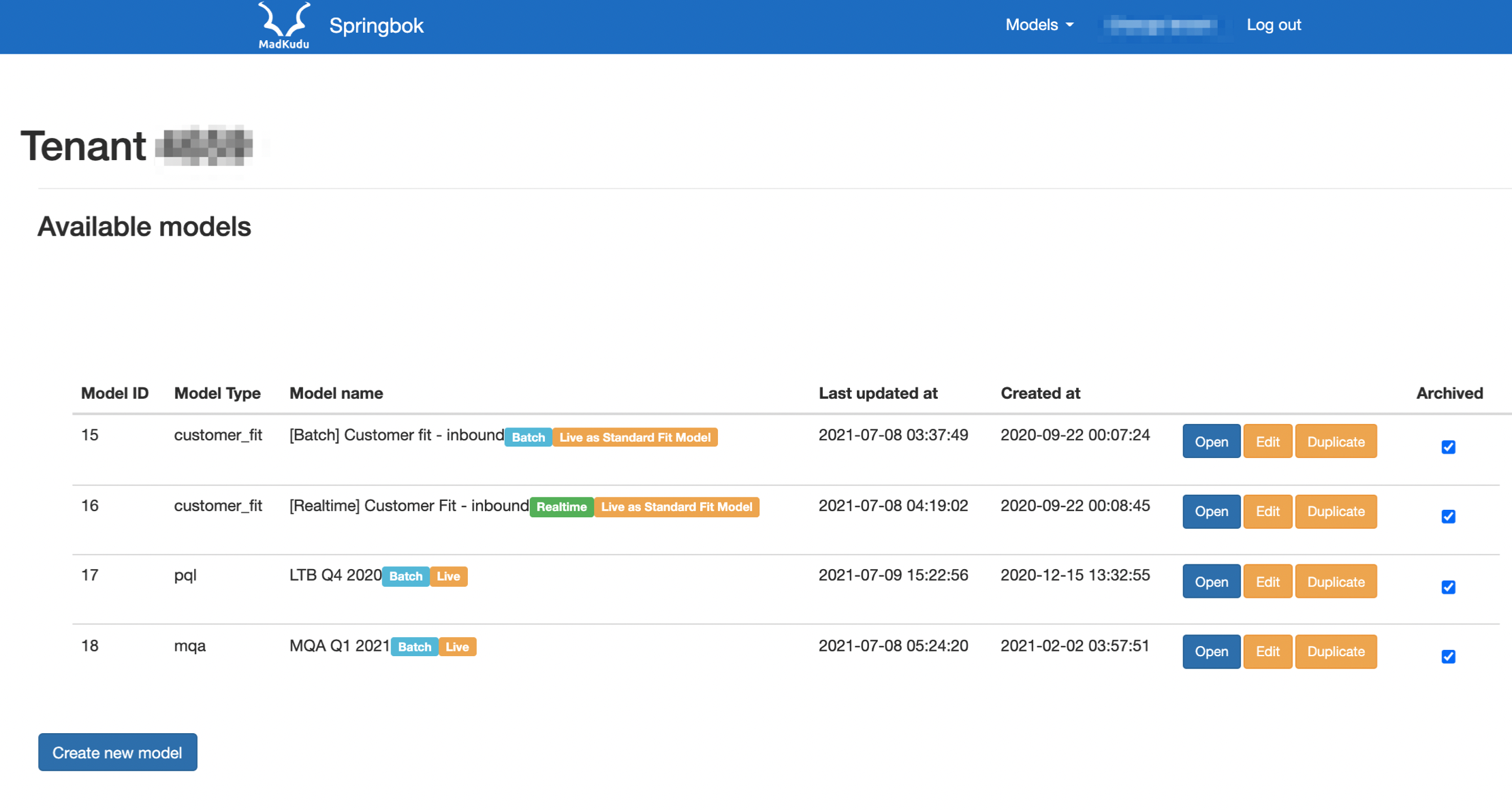 What are the different models?
What is the difference between Realtime and Batch?
The Customer Fit model can be used to score your leads in real-time, to send your leads straight to Sales as soon as they request a demo for example or as soon as they are created in your CRM, while a batch scoring would make sure their score is regularly updated with any additional information collected. Learn more about realtime and batch scoring.
The real-time model can only use the data available .. in real time, while the batch model can use all the data you have in your CRM, from your enrichment provider or Sales input. Therefore the 2 models do not have access to the same information and therefore need to be built separately. Learn more about how Madkudu uses your CRM data in the customer fit model.
F.A.Q
Who has access to the Data Science Studio?
The platform is accessible
in read-only mode for users with the role "user" and "admin"-> they can see how the model is configured, but cannot modify it.
in edit mode for users with the role "architect"
Do I need a Data Science background to use the platform?
Nop! We'll point out a few core concepts on the way but the goal is to remove any complexity or need for prior Data Science knowledge. However, if you are Data Scientist, there would be advanced parameters you would be comfortable changing.
Do I need to know any code to configure MadKudu scoring?
No! You may run into some SQL code on the platform here and there if your implementation required some advanced customization but it should be simple, fear not ;).
If you are a SQL ninja on the other hand, then you'll be able to play around with these advanced configurations.