Supported integrations
What is the Attribute mapping about?
The Attribute mapping allows to reconcile at the Person level and Account level all the traits we know of this person available across different systems, to then be used in Computations for Fit scoring or Segmentation.
Example: from john@madkudu.com
Salesforce Lead we know his team size = 10 people
Salesforce Contact we know his job title = Product Manager
Salesforce Account we know his company is a target account
HubSpot Contact we know his seniority = Director
With the Attribute mapping, MadKudu gathers and standardizes all information about John in your system in one place to load it in the Data Science Studio and complement the enrichment already provided by MadKudu to score this person.
What is the attribute mapping used for?
Building Computations to export directly to your CRM or to create a Customer Fit model. Learn more
Where is this mapping available?
In app.madkudu.com > Mapping > Attribute mapping.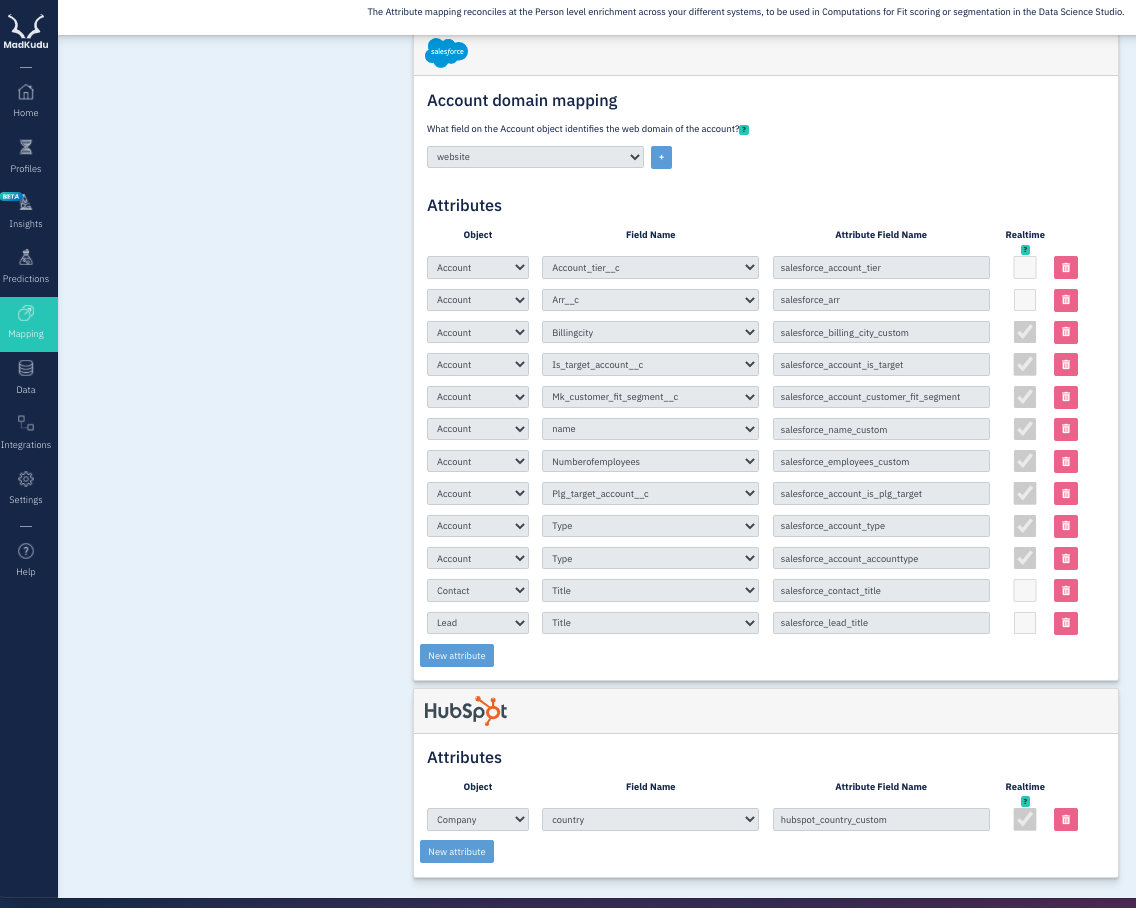 Note that if the mapping configured for your organization was not standard (meaning not supported by the app interface), the page would be empty but the mapping would be available in the back-end and can be provided upon request.
Object: object the field to map is attached to
Field name: API name of the field from your system to map
Attribute field name: standard name used for this field across the MadKudu Platform
Realtime: attributes made available for real-time scoring. Only available for Account attributes
Account domain: field on the Salesforce Account object which contains the domain of the account. This field will be used to link Lead/Contact to Account if there is no explicit account ID linking the Lead/Contact to the Account.
How to add an attribute to the mapping?
Pre-requisite:
You are a MadKudu user with Architect permissions
MadKudu needs to be pulling the CRM fields you'd like to map first before adding them to the attribute mapping. Please follow instructions here.
Warnings
Deleting an attribute from the attribute mapping can break computations and models where the attribute is used and impact the scoring. If you need to delete an attribute, please reach out to support@madkudu.com
Go to app.madkudu.com > Mapping > Attribute mapping
Click on Edit
Click on New attribute
Select the Object and Field
Enter the Attribute name. Please use the suggested name: system_object_userfriendlyname
Click on Publish
Well done! You should receive a confirmation email and after the email, the new mapping will be available in the next 4-8hours.
Troubleshooting
If you get a 500 error, please make sure you are still logged in. Note that by refreshing the page, your configuration will be lost
If you get a 404 error, please make sure all input fields have a value
Still having issues? Please send us a message to product@madkudu.com with the configuration you are trying to publish and we'll get to you as soon as we can.