Welcome to the MadKudu Chrome Extension support article! This guide will walk you through the installation and configuration process for the MadKudu Chrome Extension. With this extension, you can seamlessly access powerful sales intelligence features and streamline your prospecting efforts. Let's get started!
Pre-requisite
Before installing the MadKudu Chrome Extension, ensure that you have a MadKudu account. If you don't have one, please request access

here

.
Installing MadKudu Chrome Extension
To install the MadKudu Chrome Extension, follow these steps:
Go to MadKudu Chrome Extension page to download from the Chrome Web Store or search for "MadKudu Sales Intelligence" 
Click Add to Chrome. Confirm the installation by clicking "Add extension" in the dialog box that appears.

Log into Salesforce. Once the extension is installed, you'll see the MadKudu icon in your Chrome browser's toolbar. To use it, open your Salesforce account and you'll see the extension icon on the right-hand side of your screen
Open in Salesforce any account/lead/contact of your choice.
Sign in to MadKudu Chrome Extension: If you don't have an account yet, you can request access by filling out

this form.

Connect your Outreach/Salesloft account. This will allow you to add people to sequences directly from the extension.

Start leveraging account and lead insights! 
Using MadKudu Chrome Extension
MadKudu Chrome Extension is designed to enhance your sales workflow and streamline prospecting efforts. Here are some key features and instructions for using them:
Accessing Prospect Insights:


The extension panel will display valuable insights and information on accounts or leads, including firmographics, technographics, engagement data and much more!

Adding people to sequences with your Outreach/Salesloft Account:

If you haven't connected Outreach or Salesloft yet, click on the top right corner menu then Settings.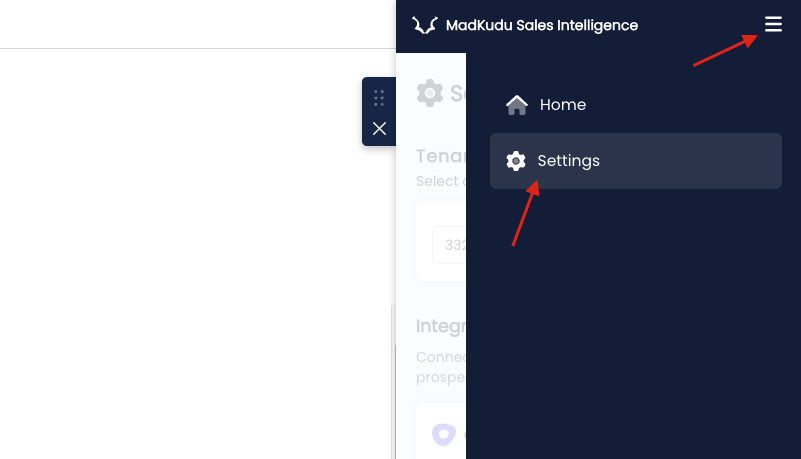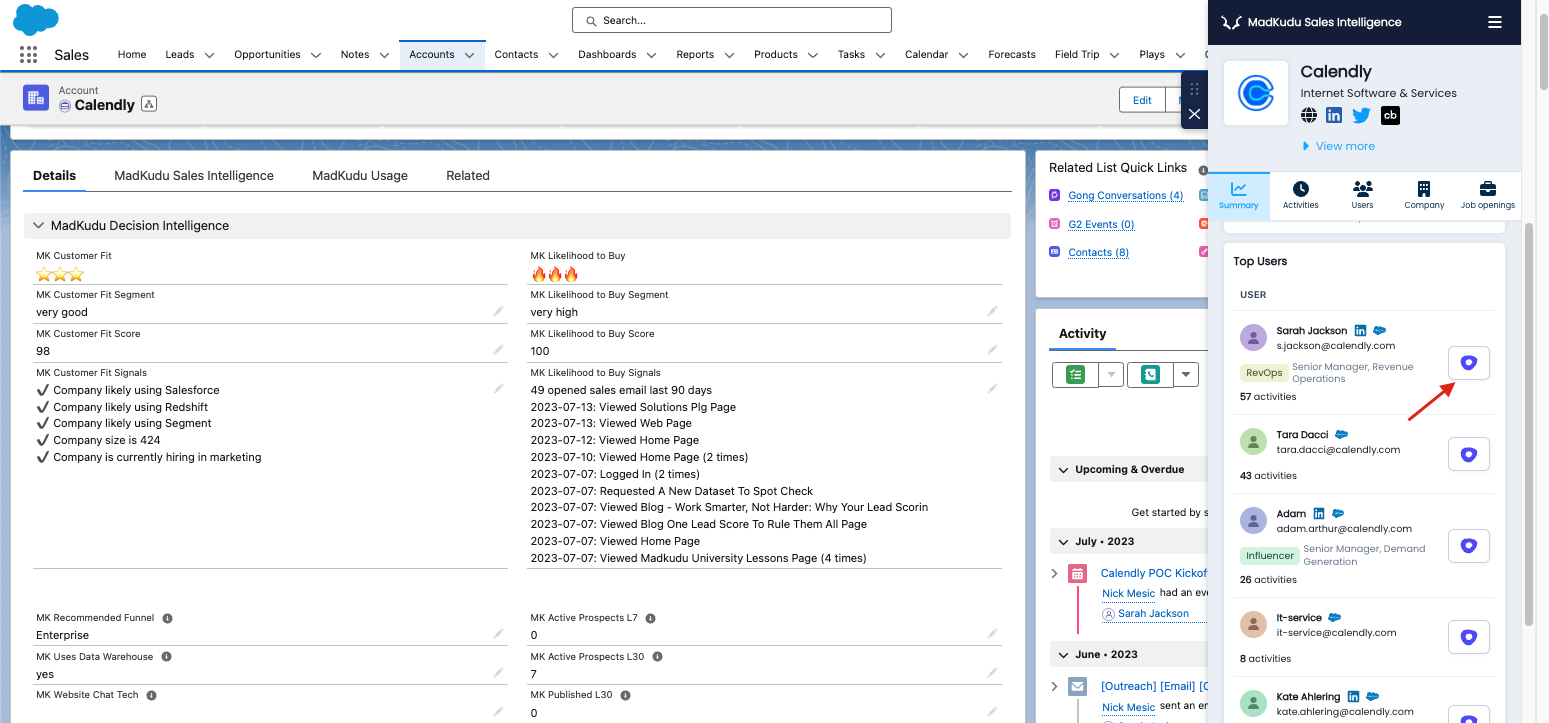 Coming Soon!
MadKudu Chrome extension everywhere! The Chrome extension will soon be able to follow you everywhere you work in Linkedin, Outreach, Salesloft or even Linkedin Sales Navigator!
Sales Alerts! Don't miss out on any opportunity to connect with your prospect by receiving alerts directly in your browser and email.
Troubleshooting
Encountering issues with the Chrome Extension? Here are some common troubleshooting steps:
1. I don't see the extension icon on my screen or I get an error when trying to install
Try the following
Clear Cache and Cookies: Clear your browser's cache and cookies and restart your browser. Then, try using the extension again.
Disable Conflicting Extensions: Disable any other Chrome extensions that might conflict with the MadKudu extension. Restart your browser and check if the issue persists.
Update Chrome and the Extension: Ensure that your Chrome browser and the MadKudu Chrome Extension are up to date. Update them if necessary.
Remove from Chrome and Install again 
2. I don't see any data in the Chrome extension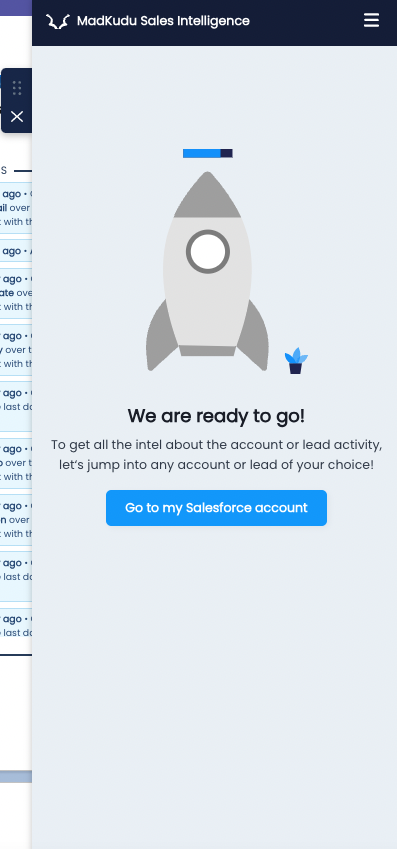 Open any Lead, Contact or Account page in Salesforce to view insights.
If you're still experiencing difficulties, please contact our support team. Provide them with a detailed description of the issue, including any error messages encountered, for prompt assistance.
If you have any further questions or require additional support, please don't hesitate to reach out to our dedicated support team. We are here to help you make the most of our Sales Intelligence Chrome Extension and ensure a seamless experience.