As an SDR or BDR, having access to valuable insights about your prospects can significantly enhance your sales efforts. In this article, we will explore how to utilize the MadKudu Sales Intelligence, specifically the Job Postings widget, to identify when your prospects are using competitor technologies. This information is like gold, as it presents an excellent opportunity for you to tailor your messaging and approach. Let's dive in!
1. Accessing the Job Postings Widget:

Log in to your MadKudu Sales Intelligence account using your credentials. Once logged in, navigate to the Job Postings widget. This widget aggregates job postings from various sources to provide you with valuable insights into your prospects' hiring and technology usage.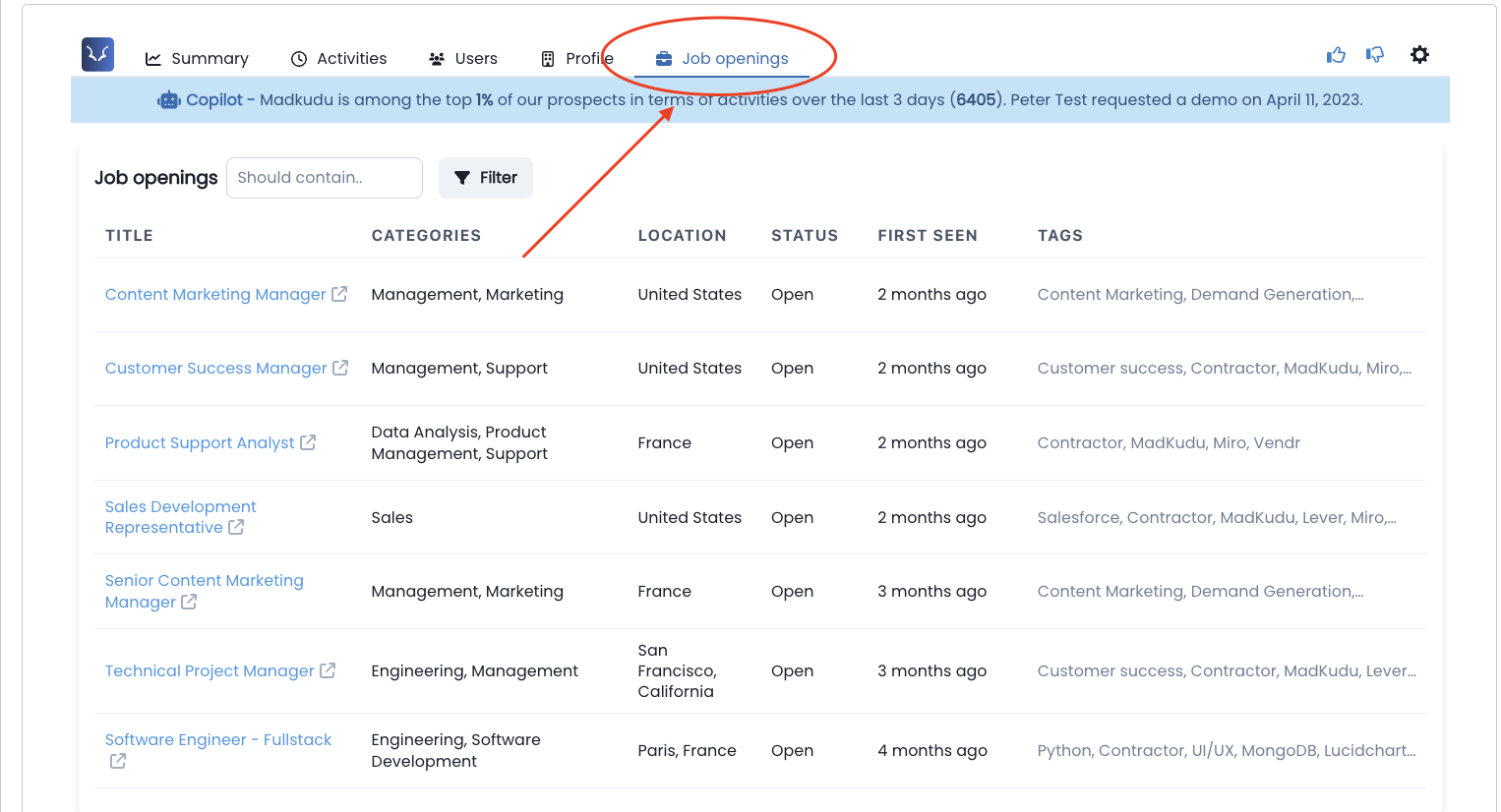 2. Identifying Competitor Technology:

Within the Job Postings widget, you can filter job postings based on relevant criteria, such as title, location, or even tags. By using specific keywords related to your competitor technologies, you can quickly spot prospects who are actively seeking talent with experience in those technologies.
Let's say your main competitor is "Acme", you can either search for it and use a filter on the widget to spot it right away. Good news is that the filter will stay in place if you check out other accounts or prospects!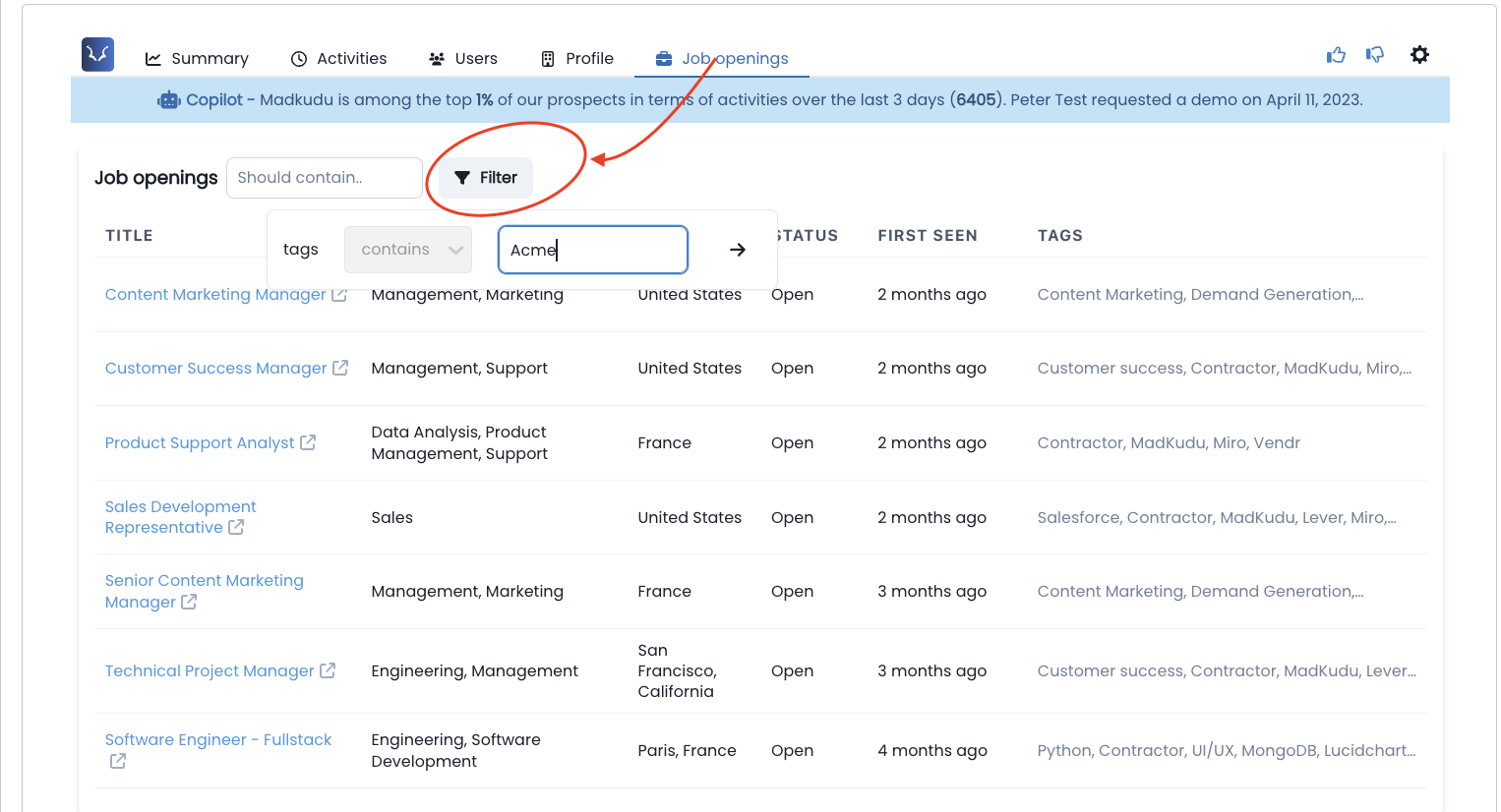 3. Why it is gold Information

Discovering that your prospect is using a competitor technology is invaluable for several reasons:
Competitive Advantage: Understanding which competitor technology your prospect currently utilizes gives you a competitive edge. It allows you to position your product or solution as a superior alternative or showcase unique features that address their pain points effectively.
Tailored Messaging: Armed with this information, you can customize your outreach and conversations to highlight the key differentiators and benefits of your offering over the competitor's technology. This personalization increases the chances of resonating with the prospect and capturing their attention.
Timely Engagement: Job postings indicate that the prospect's company is actively investing in talent with expertise in specific technologies. This presents an ideal time to engage with the prospect, as they are likely in the process of evaluating and implementing new solutions.
4. Crafting Your Message
When reaching out to a prospect who has posted a job listing related to a competitor technology, the goal is to understand if the person is ready to change and/or they experience pain point with the current solution. We highly encourage you to use battle cards created internally to point out where your solution wins over your competitor. You could consider using a template like this to get started:
"Hey [Prospect's Name],
I hope this email finds you well. I noticed that you're using [Competitor's Product], and I couldn't help but reach out to you.
I'm curious to know how [Competitor] has been working for your team. [Competitor] seems to be a pretty good product overall but I heard that [Competitor's pain point]. How's your experience so far?
At [Your Company], we're always striving to improve and provide top-notch solutions. Hearing from professionals like you who are in the trenches every day helps us better understand the needs of sales teams.
If you have a moment, I'd love to hear your thoughts. Feel free to shoot me a quick email or, if you prefer, we can schedule a brief call to chat.
Thanks a bunch, and I'm looking forward to your response!
Best,
[Your Name]
[Your Contact Information]"
---

Leveraging the Job Postings widget in MadKudu Sales Intelligence equips SDRs and BDRs with the powerful ability to identify when prospects are using competitor technologies. This knowledge provides a golden opportunity to tailor your messaging, highlight your product's differentiators, and engage with prospects at a crucial time in their evaluation process. By leveraging this information effectively, you can increase your chances of success and drive meaningful conversations with potential customers. Happy selling!