Having difficulties loading the Sales Intelligence in Salesforce? Are you or some users getting prompted with an error message? Here's a troubleshooting guide.
1. If users see a blank page
Please make sure the user was invited to your MadKudu account.
If you are a MadKudu Admin, log in to app.madkudu.com and navigate to Settings > Users. Click "Add new user", enter their email address and select the role "Sales user". They'll receive an invitation to accept and then will be able to connect in Salesforce. See more here: Invite users to MadKudu
2. If users see "Insufficient Privileges"
Please make sure the Salesforce profiles associated with these users are enabled with the VisualForce page access.


Go to Salesforce Setup, search Users and select Profiles.
Select the user associated with the people who should see the MadKudu Sales Intelligence
In the section "Enabled VisualForce Page Access" → click Edit, then add the VisualForce MadKudu Account Sales Intelligence. See more here: https://help.salesforce.com/s/articleView?id=000325936&type=1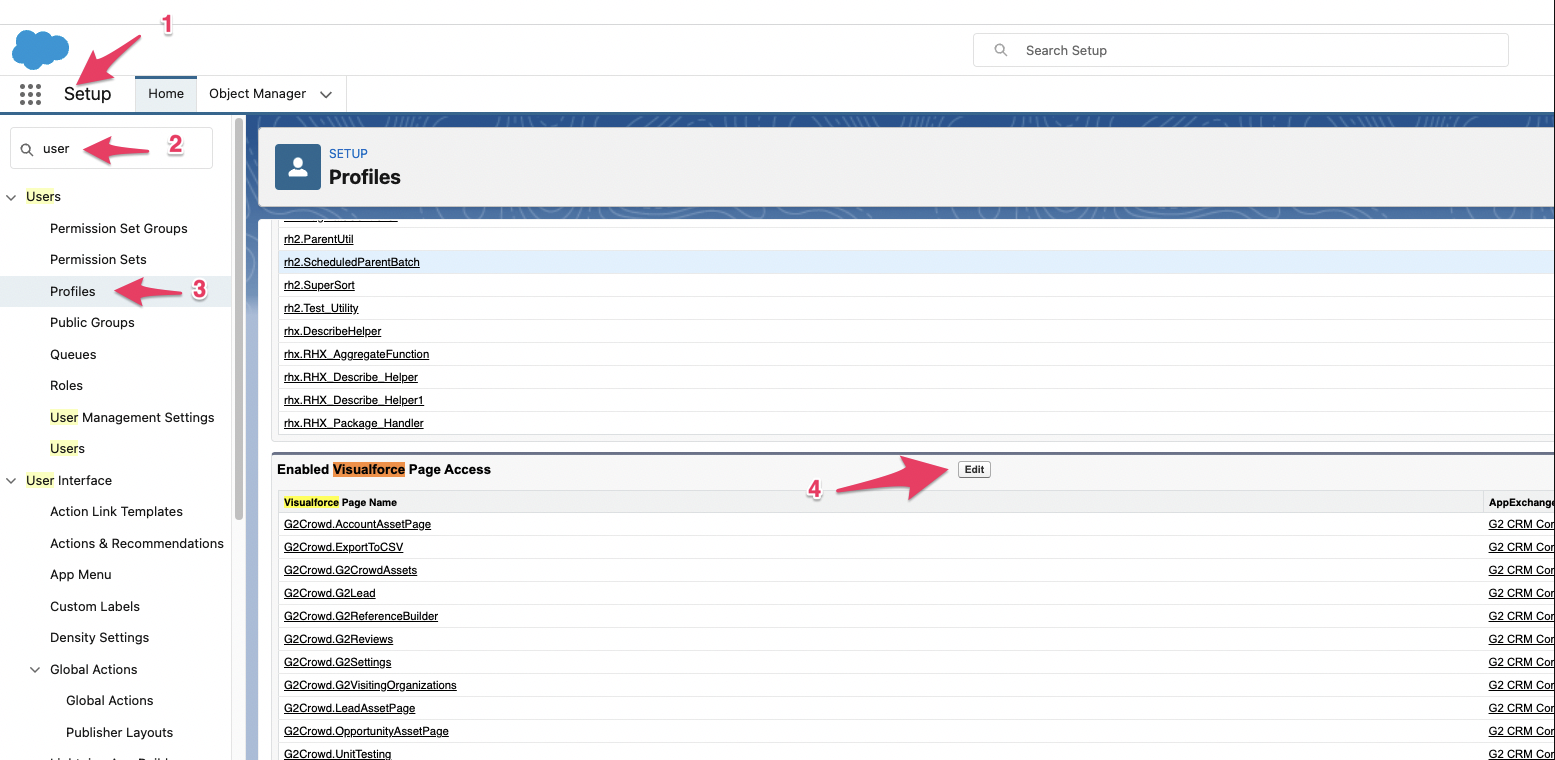 3. If users see "We were unable to get the ID"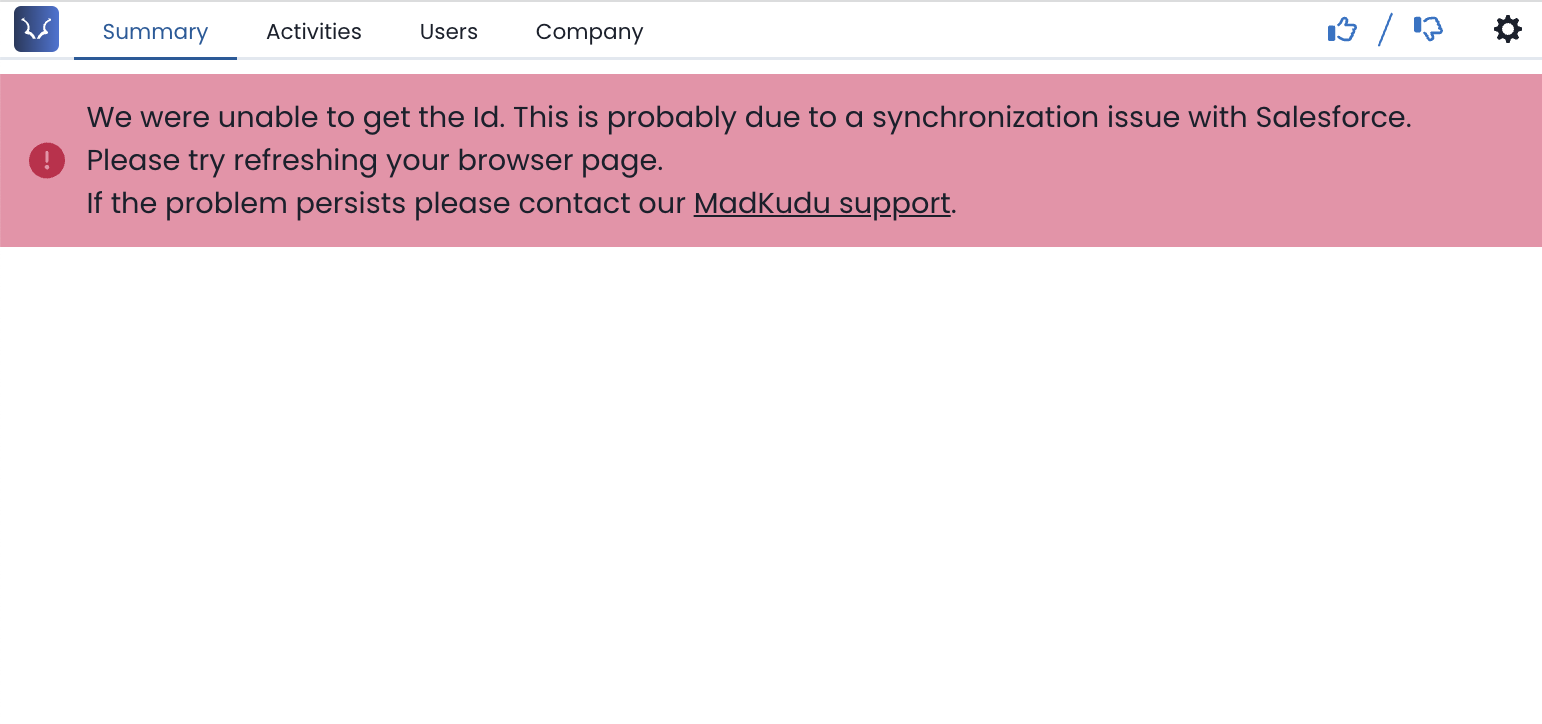 Please try refreshing your browser page.
Example on Chrome:

explanation: This error can happen when the iFrame doesn't retrieve the Salesforce Account ID correctly. Reloading the page should make Salesforce resend the ID to the iFrame.


if the error is still there, are you using a Salesforce Sandbox? Is this sandbox using different Account IDs as your production instance? If so please install the Sales Intelligence module on a sandbox using the same IDs or install it in your production instance.


If the error persists please reach out to us with this message.
4. If you're facing a persistent issue or another issue not listed here
If this is happening for all accounts
Please make sure the VisualForce page is correctly installed following the installation instruction: https://support.madkudu.com/hc/en-us/articles/7130788647437-Installing-MadKudu-Sales-Intelligence-in-Salesforce
In particular, verify the APEX code of the VisualForce page
If still no solution, don't despair, we're here to help
Please reach out to our support team via this request form. You can usually expect an answer within a business day. You can use the following message template (filling out what you know, it's ok to not have all info :) )
"Hi,
We have the Sales Intelligence installed in our Salesforce and some accounts show the error XXX. Here is more information
- Screenshot of the error
What is super helpful would be to include the error in the console: right-click in the module, then click "Inspect" and go to "Console" tab, screenshot the total browser page.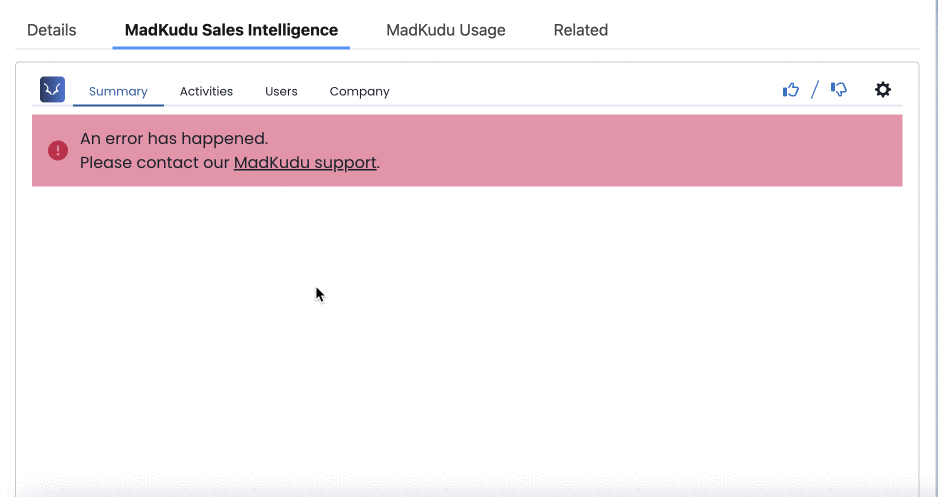 - List of Salesforce Account ID where this error is showing
- Salesforce user ID of the person seeing this error:
- Salesforce role of this person:
- Browser (Chrome, Safari, Explorer...):
- Our Salesforce Admin contact details you can reach out to:
Thank you,
Name"
We're here to help!